Hechtia Care Cheat Sheet
Learn how to care for your Hechtia bromeliad with this quick and easy informational guide.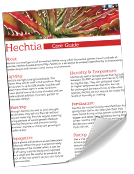 Hechtia is a small genus of bromeliads. While many other bromeliad genera have hundreds of species, Hechtia boasts around fifty. Hechtia is a terrestrial bromeliad identified by its characteristic rosette shape and thrives in arid, sunny environments.
In this informational care guide, you will learn about the following Hechtia requirements:
Lighting
Watering
Propagation
Humidity & Temperature
Fertilization
and Potting
Simply fill out the quick form to the right and enjoy your free copy!
Fill out the form for your free copy of
Hechtia Care Cheat Sheet.
Providing this information helps us as we create new resource materials! Thank you!