Bromeliad Care and Culture Overview
Author: admin124 Comments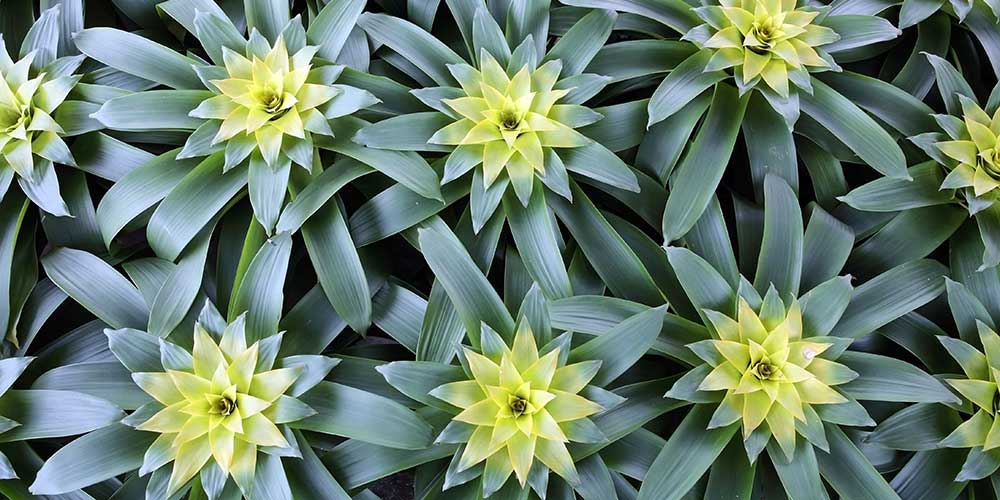 Bromeliad Care and Culture Information Overview
Information about the care and culture of bromeliad plants including ideal light, temperature, humidity, air circulation, water, soil, planting beds, potting media and fertilization.
Light
Bromeliads tolerate a wide range of light intensities, including low light, for long periods without ill effects. The plants, however, will look better when they receive proper light. Although optimum light levels vary considerably, the following characteristics are helpful in selecting a spot for a particular plant. Generally bromeliad species with hard, thick, gray, gray-green or fuzzy foliage withstand the highest light levels, while species with soft, green, thin leaves grow best under lower light levels.
A general recommendation is to grow bromeliads where the light level is approximately 1,500 foot candles or where orchids grow well. In a home, a window with a southern, eastern or western exposure is satisfactory for bromeliad growth, but most species must not be exposed to the direct rays of the sun.
In most instances, a bromeliad will indicate by its growth habit whether light levels are satisfactory. A yellowish or pale green plant may indicate that the light level is too high. Conversely, a darker green than normal, with a more open or elongated shape, may indicate low light levels.
It is difficult to categorize bromeliad genera into optimum light levels, because light requirements of species within a genus may differ. The following generalizations can be used as a guideline, however, when selecting bromeliads for a particular site. Plants in the genera Dyckia, Puyas, Hechtias, Ananas and the hard-leaved species in Aechmea and Billbergia grow best at high light levels. Plants in the genera Guzmania, Neoregelia, Nidularium, Cryptanthus and Vrieseas can grow under lower light levels.
Temperature
The majority of bromeliads are tropical or subtropical and thrive outdoors in Florida's high summer temperatures. Many tolerate temperatures in excess of 100°F. In a home environment, however, bromeliads do best at 70-75°F during the day and between 60 and 65°F at night. Bromeliads native to central and north Florida tolerate temperatures slightly below freezing for short periods, but most introduced species should not be exposed to temperatures below 40°F. As a general rule, the softer-leafed species need a higher temperature, while those with very hard, stiff leaves are much more tolerant of cold.
Humidity
Most bromeliads grow best indoors at a relative humidity of 40 to 60 percent. Unfortunately the average humidity in most homes is well below 40 percent, especially during winter months when heating systems are operating. Humidity levels in the home can be increased by installing an inexpensive humidifier. Humidity in the vicinity of plants can be improved by placing potted plants on a 2 or 3-inch bed of wet gravel. Water evaporating from the gravel increases the humidity. The bottom of the plant pot should never be in or under water, because this causes waterlogged medium, possibly resulting in root damage. Another method of increasing the humidity around plants is to mist them with water frequently during the day.
Air Circulation
Bromeliads, due to their epiphytic nature, require good air circulation. Fresh air supplies them with carbon dioxide and moisture. Plants grown in stagnant air are more apt to be attacked by scale insects and fungal organisms causing the bromeliads to deteriorate rapidly. Air circulation can be improved in a home by simply opening a window on days that are not too cold or by turning on a fan at low speed for most of the day.
Water
Bromeliads are extremely tolerant of low-moisture conditions and will survive prolonged periods of drought. Most of the problems encountered with bromeliads are usually associated with rot caused by over watering. Growing these plants in light, porous potting mixes that drain rapidly should help prevent this problem. Bromeliads grown in a potting mix or in the landscape should be watered when the soil surface feels dry. Plants grown in pots should be watered thoroughly, until water runs out of the bottom of the pot and then not watered until the medium surface feels dry. Under normal household conditions watering thoroughly once a week is usually sufficient. In homes where the relative humidity is low (during winter months and in air-conditioning) plants must be checked and watered more often.
Many bromeliads are formed of a rosette of broad leaves which creates a "cup" or "vase" in their centers. If the plant is supplied with moisture by wetting the soil around its roots, it is not necessary to keep the cup filled with water. Most bromeliads adapt so well to culture in a pot that they absorb the needed moisture and nutrients through their root systems. Keeping the cup filled with water under low light conditions that exist in most homes encourages bacteria and fungus problems. If the cup is kept filled with water, it should be flushed out with plenty of water periodically to prevent possible stagnation. Periodic flushing also prevents a build up of salts left when water in the cup evaporates. Water should be removed from the cup if the temperature is likely to fall below 40°F. This practice will prevent cold damage which appears as a brown line across each leaf at the water level.
Epiphytic bromeliads, such as those found in the genus Tillandsia, are often grown secured to a board or bark. Because these plants have no distinct cup to collect water, they absorb moisture from the air through their scaly leaves. Unfortunately, in an indoor situation, where the humidity is usually very low, they are unable to obtain adequate moisture from the air. Moisture can be supplied to these plants by misting or dousing them in a container of water daily.
Soil and Planting Beds
Bromeliads have a limited root system compared to other flowering annuals and perennials. Roots function primarily as a support or anchoring system. Bromeliads absorb water and minerals through their leaves from the moisture in the air and through their cups. They are not as dependant, therefore, on their root system as are most other plants. It is important, however, to keep their root system alive and in good health. The epiphytic nature of bromeliads prevents plants from tolerating heavy clay soil. To improve these soils, incorporate 2 to 3 inches of organic matter (peat, leaf mold, compost, etc.) into the planting bed. The sandy soils of Florida are usually well drained and good for growing bromeliads.
Potting Media
Most bromeliads grow best in a very porous organic medium which permits quick water drainage and sufficient air circulation around the roots. There is no one potting mix which is better than any other, however, the following mixes are suggested:
One part peat, one part bark, one part coarse sand
One part peat, one part bark, one part perlite
One part peat, one-half part leaf mold, one part coarse sand
Osmunda fiber, unshredded sphagnum moss or tree-fern fiber may substituted for peat moss in these mixes. Some bromeliads thrive best when grown in a medium composed only of osmunda fiber.
Fertilization
Actively growing bromeliads respond to light applications of fertilizer. During the winter months, or under conditions of low light, they require little or no fertilizer. A general purpose, liquid houseplant fertilizer can be applied to the potting mix at 1/3 to ½ of the recommended dosage every 1 to 2 months. It is best not to add fertilizer in the cup because this could lead to an accumulation of fertilizer salts that may burn newly emerging leaves.
Controlled-release fertilizers can be incorporated uniformly throughout the potting mix at planting and applied on the medium surface of established plants. Bromeliads usually grow much better with a continuous nutrient supply. Labor is also reduced because controlled-release fertilizer application frequency is less than for rapid-release fertilizers.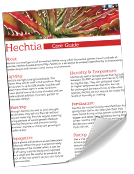 Resource Download
Hechtia Care Cheat Sheet
Learn how to care for your Hechtia bromeliad with this quick and easy informational guide.
Learn More

Ask an Expert
Questions about bromeliads?
Our experts love a challenge!