Bromeliad Propagation: A Basic Overview
Author: Melanie Dearringer40 Comments

Most bromeliads will bloom only once in their lifetime. As they age, they add new leaves from the center. At some point, the bromeliad will no longer be able to produce more leaves due to spacing issues and will begin to die off. Luckily, bromeliads are easy to propagate and can do so both asexually by pup production and sexually via seed.
Asexual Propagation
For a more detailed overview of asexual propagation, check out our free Guide to Bromeliad Pups.
After flowering, most bromeliads will slowly die off over the next couple years. However, if you are caring for a healthy bromeliad, several pups will develop. These pups are exact clones of the mother plant and typically emerge from the base of the plant. Pups should be separated from the mother plant after they have reached 1/3 to 1/2 the size of the original plant. To remove a pup, use a sharp, sterilized blade. Use the blade to slice the pup from the mother plant. The young pup may not have developed a root system of its own. Don't be alarmed if it hasn't. Once separated, add more potting medium to the area where the pup has been removed from the mother and transplant the newly cut pup into a pot of its own. The mother plant, especially if helped along with a small amount of diluted fertilizer, will continue to produce pups until it dies. These new bromeliads will normally bloom in 1 to 3 years. 
Sexual Propagation
Seed propagation is a long and tedious method of producing a large number of bromeliads at a relatively small expense. Seeds can be sown in pots or nursery flats on a surface of moist sphagnum moss or finely screened potting soil containing 50 to 75 percent organic matter. Because seeds are sown on the surface, a glass cover should be placed over the pot or flat to maintain a high humidity and prevent the medium from drying out too rapidly. Bromeliad seeds require bright, indirect light and temperatures of 70F to 80F to survive. It typically takes 10 to 14 days for plant growth to become visible.
Seedlings are usually left in the propagation container until they are 1½ and 2 inches tall and then transplanted directly to small pots. Because plants grown from seeds normally require 3 to 6 years to reach maturity, sexual propagation takes more patience than vegetative propagation. 

Sources
Bromeliad Society International http://www.bsi.org/brom_info/growing/seed-ja.html
Bromeliad pup photo credit: Gem via http://www.flickr.com/photos/its_gem/5495617750/
Tillandsia seeds photo credit: Edu via http://www.flickr.com/photos/eutima/3022907176/
Featured image photo credit: Christoph Diewald via http://www.flickr.com/photos/chris_diewald/391561745/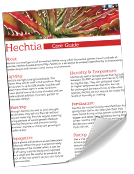 Resource Download
Hechtia Care Cheat Sheet
Learn how to care for your Hechtia bromeliad with this quick and easy informational guide.
Learn More

Ask an Expert
Questions about bromeliads?
Our experts love a challenge!