Growing Indoors
Bromeliads are spectacular indoor plants. With proper care, you can enjoy these low maintenance foliage plants year round.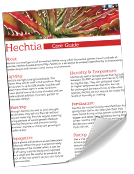 Resource Download
Hechtia Care Cheat Sheet
Learn how to care for your Hechtia bromeliad with this quick and easy informational guide.
Learn More

Ask an Expert
Questions about bromeliads?
Our experts love a challenge!