Gifting a Bromeliad for this Mother's Day
Author: Celeste Booth5 Comments
Blooming, Care and Culture, Growing Indoors

Bromeliads make great gifts
Not sure what you to gift your mom this Mother's Day, but want something that isn't your typical bunch of roses? Try a bomeliad! Not only do they have gorgeous bright colors, they are a very manageable and beautiful plants. We recommending purchasing a Guzmania, as this is a low maintenance, easy to find variety. With vibrant colors and an unusual shape, you mother will love the uniqueness of her gift. We've put together a general care sheet for Guzmania bromeliads that you can find here. Feel free to print it off and give to your mother so she can refer to it if she needs to!
Where to buy
If you are in a warmer, humid climate (Florida, for example) try googling for bromeliad growers in your area. Going straight to a professional grower will give you access to the healthiest plants, you can talk to the grower about how to care for the bromeliad you purchase, and you'll be supporting the local economy!
However, you can usually find bromeliad plants at your local home improvement or grocery store, and if not, online. Check out our list of 7 Places to Buy Bromeliads Online for some great online sellers. And if you're looking for more of a packed-in-the-pot, ready-to-go look, then places like proflowers.com and teleflora.com have bromeliads for sale right now for Mother's Day. Proflowers.com gives you the option of choosing a bromeliad potted alongside an orchid, or alone. Both are beautiful options!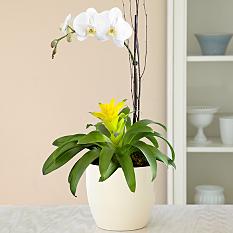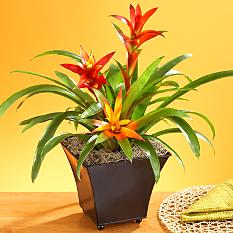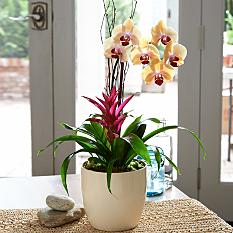 Caring for your bromeliad
Make sure to take note of these general care guidelines so that you can tell your mother how best to care for her new plant!
1. Watering: Give your bromeliad a good watering, but let dry out before watering again (constantly soggy soil will cause root rot).
2. Humidity & Temperature: Guzmania enjoy hot and humid temperatures, so try to keep temperatures above 60F. If your house doesn't have much humidity, you can place your bromeliad near other houseplants, or put it in parts of your house that are more humid (kitchen, bathroom…).
3. Fertilization: use a diluted (half strength or quarter strength) fertilizer biweekly or monthly. Avoid using fertilizers that contain copper and boron, as they are harmful to bromeliads.
5. Propagation: Mature plants will produce pups (new plant offshoots). When the pup is approximately 1/3 the size of the mother plant, it can be cut off using a sterile blade and repotted. Access our Free Guide to Bromeliad Pups for more information on how to harvest and care for your bromeliad offsets.
Bromeliads are a wonderful way of reminding your Mother how much you care. Unlike cut flowers, a bromeliad will continue to provide enjoyment to your mom for years to come.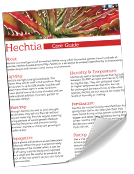 Resource Download
Hechtia Care Cheat Sheet
Learn how to care for your Hechtia bromeliad with this quick and easy informational guide.
Learn More

Ask an Expert
Questions about bromeliads?
Our experts love a challenge!