Blooming
Most bromeliads only bloom once in their lifetime. Here you will find information on blooming cycles, force-blooming, and bromeliad offspring (commonly known as off-sets or pups).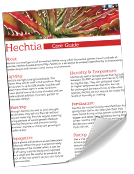 Resource Download
Hechtia Care Cheat Sheet
Learn how to care for your Hechtia bromeliad with this quick and easy informational guide.
Learn More

Ask an Expert
Questions about bromeliads?
Our experts love a challenge!