Permanently Planting Bromeliads
Author: Melanie Dearringer16 Comments
Blooming, Care and Culture, Classification, Growing Indoors, Growing Outdoors
An excellent way to grow bromeliads in the greenhouse or conservatory is in a permanent bed specially designed for them.
This is easily constructed with wooden boards about 9 inches (23cm) wide, which are placed on the floor of the greenhouse to make a rectangular frame of the required size. Set a couple of dead tree branches or artificial trees (see my Making A Bromeliad Tree post) in the middle and then put a layer of broken brick in the bottom of the frame to a depth of about 3 inches (7.5cm). Finally, fill the frame with a mixture of equal volumes of coarse sand and moss peat. The trees may be planted with Tillandsia and other epiphytic plants and the bed below can house the more shade-loving bromeliads. Many other plants, like begonias, geserias and ferns, will also thrive in such a planting.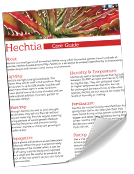 Resource Download
Hechtia Care Cheat Sheet
Learn how to care for your Hechtia bromeliad with this quick and easy informational guide.
Learn More

Ask an Expert
Questions about bromeliads?
Our experts love a challenge!