Other Aechmea Species And Related Plants
Author: Celeste BoothNo Comments
Care and Culture, Classification
Many other species of Aechmea are seen in collections and at shows, but being tempted to buy an unknown plant, you should find out its ultimate size; some may grow to 3 ft (90cm) or more in diameter and could become an embarrassment in a small greenhouse or home.
Other plants related to Aechmea are encountered from time to time, such as Hohenbergia, Portea and Streptocalyx. These too tend to be rather large for the average grower and mostly require a winter temperature of 60 degrees F (15 degrees C).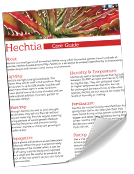 Resource Download
Hechtia Care Cheat Sheet
Learn how to care for your Hechtia bromeliad with this quick and easy informational guide.
Learn More

Ask an Expert
Questions about bromeliads?
Our experts love a challenge!