Care and Culture
Bromeliads vary widely in size, shape, color, maintenance requirements, and ease of growth. Learn about the characteristics of specific genera and how to properly care for each.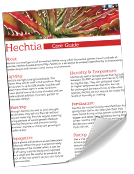 Resource Download
Hechtia Care Cheat Sheet
Learn how to care for your Hechtia bromeliad with this quick and easy informational guide.
Learn More

Ask an Expert
Questions about bromeliads?
Our experts love a challenge!