How Long will my Bromeliad Bloom?
Author: Celeste Booth10 Comments
Blooming, Care and Culture, Frequently Asked Questions, Propagation

As you may already know, most bromeliads flower just once in their life. When the bloom begins to die, the bromeliad is ready to put its energy into producing pups. These pups are the next generation of bromeliad plants and can be harvested from the mother plant when they are around 1/3 of her size.
So how long can you expect your bromeliad to actually bloom for? It will vary, but generally it should be anywhere from 3-6 months. In order to maximize your bloom time, be sure your growing conditions are optimal (it's getting enough light, is not overwatered, and is in a warm enough environment).
Once your bromeliad is done blooming and has produced pups, you can remove the pups (as well as the dead bloom) and this will encourage your mother plant to keep producing more pups. Althought the mother plant will die, you now have a new generation of bromeliads that will bloom for you (perhaps a few at a time!).
If you have a bromeliad pups that are ready for harvest, take a look through our Beginner's Guide to Bromeliad Pups to help you through the process.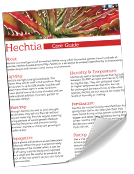 Resource Download
Hechtia Care Cheat Sheet
Learn how to care for your Hechtia bromeliad with this quick and easy informational guide.
Learn More

Ask an Expert
Questions about bromeliads?
Our experts love a challenge!