Growing Bromeliads Indoors Overview
Author: Melanie Dearringer191 Comments

Bromeliads are excellent indoor plants. They have colorful, long-lasting inflorescence and some have brilliantly colored foliage as well. Bromeliads also readily adapt to the unfavorable growing conditions that exist in most homes.
Although many bromeliads are epiphytic, living on branches and trunks of trees in their native habitat, most can be grown in containers. Clay and plastic pots are satisfactory as containers. If the bromeliad is top heavy, you will need to add weight to the planter to create more stability. Because plastic pots retain moisture longer than clay pots, plants grown in the former need watering less frequently. Epiphytic bromeliads can also be grown in perforated plastic baskets and clay pots like those used for other epiphytic plants such as orchids.
Because bromeliads rarely have extensive root systems, relatively small pots are adequate for most plants. The larger varieties can usually be brought to flowering in 5 to 7-inch pots. Terrestrial plants do not have to be moved into larger pots until their roots completely fill the current container. Move young epiphytes into pots one size larger every spring until the maximum pot size has been reached.
Some epiphytic bromeliads, such as the gray-scaled Tillandsia, grow poorly if planted in a conventional potting mixture. They grow best in a medium such as tree-fern bark, cork-oak bark, or on a tree-fern slab, or pieces of wood. To mount your Tillandsia on one of these materials, wrap the base of the plant (including roots, if any) in sphagnum moss, and tie the wrapped base to its support by winding plastic-coated wire around the moss and the supporting material. Fasten the ends of the wire firmly but in such a way that it can be easily untied. Hang the mounted specimens in a convenient place. Spray the sphagnum moss and plant with water frequently enough to prevent complete drying of the moss.
After supportive roots grow over the sphagnum moss and around the mount, remove the temporary wire. To keep the plant alive and healthy, water the plant, its roots, and the supportive materials twice weekly throughout the year. Water can be applied as a spray or the entire mounted plant can be submerged in water for a few minutes. The humidity around plants will influence their need for water. The humidity in a home which is heated during the winter months or cooled with air-conditioning during the summer months can be very low and plants may need to be watered more frequently than those grown in a moist environment.
Sources
Guzmania photo credit: Yoichi_ via http://www.flickr.com/photos/yoichi_/1183196942/
Tillandsia ionantha photo credit: James Ho via http://www.flickr.com/photos/mankitho/43963972/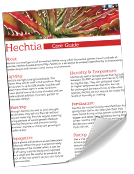 Resource Download
Hechtia Care Cheat Sheet
Learn how to care for your Hechtia bromeliad with this quick and easy informational guide.
Learn More

Ask an Expert
Questions about bromeliads?
Our experts love a challenge!