Welcome to Bromeliads.info – a blog dedicated to the education of bromeliad enthusiasts around the world.
Here at Bromeliads.info, we work hard to provide you with the latest and greatest information on a variety of bromeliad topics. Whether you are an experienced bromeliad grower or a novice that would like to increase your knowledge of bromeliad care, we aim to provide you with information to meet you at any level.
We are dedicated to providing education to all our community members by offering free informational guides, ebooks, infographics
Have a burning question? Head on over to our "Ask an Expert" section and tell us what's on your mind. We'll try to respond as soon as we can and are always up for a challenge! Looking for that perfect flower pot for your bromeliad? Check out our partner ePlanters.com.
Our goal is to cultivate friendships amongst bromeliad enthusiasts and promote informational exchanges on topics such as bromeliad care requirements, growth, propagation, and more. So take a look around our site and let us know how we can help you. Don't forget to take a peek of our beautiful photo gallery, and while you're at it why not submit a photograph of your own bromeliad for the chance to be selected as next week's featured image!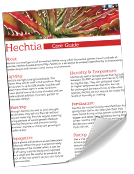 Resource Download
Hechtia Care Cheat Sheet
Learn how to care for your Hechtia bromeliad with this quick and easy informational guide.
Learn More

Ask an Expert
Questions about bromeliads?
Our experts love a challenge!