How to Flush Out Excess Fertilizer Salts
Author: Celeste Booth8 Comments
Care and Culture, Growing Indoors, Growing Outdoors

My Bromeliad has Fertilizer Salt Buildup… What Should I Do?
We are often asked what to do in circumstances where fertilizer salts or hard water minerals have left deposits on your bromeliad's foliage. Bromeliads rarely take up every last bit of fertilizer, particularly in the top 1 in (2.5 cm) or so of soil. In that area, moisture tends to evaporate, leaving behind accumulated salts.
You can see these salts as whitish deposits on the inner rim of the container, and sometimes on the soil's surface, too. Few plants are immune to the effects of these salts, which destroy root tissues and interfere with a plant's ability to take up nutrients and water. When you notice heavy buildup, a practice of flushing out pots every 4 to 8 weeks may be required. Sometimes called double watering, or drenching, the procedure goes as follows:
Water plants thoroughly with plenty of clean, tepid water (rainwater or distilled water is best)
Allow excess water to drip out though the drainage holes for 30 minutes then drench the pots again.
Be sure to pour off all excess water that accumulates in pot trays when you are finished.
Resume regular watering and feeding when the soil reaches the appropriate level of dryness for the plant.
It is always a good practice to flush out the center cup/tank of your bromeliad to keep water clean and avoid the buildup of salts or stagnant water. This can be done on a monthly basis to ensure continued health of your plant.
What About the Residue From Hard Water?
If you are watering with hard water and notice a mineral buildup left over from the evaporated water, you can take a wet cloth and wipe down the leaves. In addition, remember to flush out the cup on a regular basis just as you did for fertilizer salt buildup. Again, using rainwater or distilled water for this is ideal.
Have more questions? Post them below and we'll do our best to help you out!
Cover Photo: Ramon FVelasquez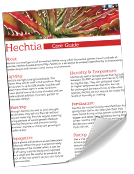 Resource Download
Hechtia Care Cheat Sheet
Learn how to care for your Hechtia bromeliad with this quick and easy informational guide.
Learn More

Ask an Expert
Questions about bromeliads?
Our experts love a challenge!