11 Common Aechmea Bromeliads
Author: Melanie Dearringer6 Comments

Aechmeas constitute a large genus of bromeliads and are widely distributed in nature from Mexico to Argentina.
Nearly all of them form strong open rosettes, often retaining water in the center of the plant. They have good root systems, which not only anchor them to their hosts as they are mostly epiphytic, but take in sustenance from the rotting detritus that accumulates in pockets on the trees where they grow.
Below is a list of the most common Aechmea bromeliads; click the links for more information on each type!
Popular Aechmea Species and Cultivars
A. chantinii (Amazonian Zebra Plant)
A. cylindrata
A. 'Foster's Favorite'
A. fulgens (Coralberry)
A. gamosepala
A. nudicaulis
A. orlandiana
A. pineliana
A. 'Royal Wine'
A. Weilbachii var. leodiensis
Featured image by Alex Popovkin via https://www.flickr.com/photos/plants_of_russian_in_brazil/8515761519/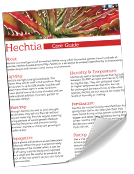 Resource Download
Hechtia Care Cheat Sheet
Learn how to care for your Hechtia bromeliad with this quick and easy informational guide.
Learn More

Ask an Expert
Questions about bromeliads?
Our experts love a challenge!