Aechmea fasciata: Growing Guidelines
Author: Melanie Dearringer26 Comments
Care and Culture, Classification

This article provides information on the specific growing guidelines for Aechmea fasciata bromeliads.
Light: Bright light from an east or west window.
Temperature: In summer, plants enjoy moving outdoors, provided temperatures range between 70 to 85 degrees F (21 to 30 degrees C). In the fall, winter and early spring, average room temperature should be between 65 to 75 degrees F (18 to 24 degrees C).
Fertilizer: In the summer, feed monthly with a liquid plant food diluted to half the normal strength. Spray it on the leaves and fertilize the roots. In the winter, feed plants every other month.
Water: Flush the water in the reservoir regularly, at least every 10 days. Lightly water the roots weekly in the summer, and less often in the winter. Do not allow the roots to dry out completely in any season.
Soil: Orchid potting soil or a bromeliad mix work great! For more information on soil, take a look at this bromeliad soil article.
Repotting: Repot young plants annually in the spring, as needed, until they fill an 8-inch pot. Longevity: Plants mature in 3 to 4 years.
Propagation: Divide and repot offsets when they are 4 to 6 months old and at least 6 in (15 cm) tall. For more information on bromeliad propagation, get our free Guide to Bromeliad Pups.
Selections: In addition to the green-leafed form, 'Purpurea' features leaves blushed with maroon, and 'Variegata' has creamy longitudinal stripes on the leaves.
Display Tips: Grow Aechmea fasciata in its own pot near plants with lush green foliage, such as ferns or flowering houseplants that need abundant light. Young pups can be mounted on a piece of wood for one season.
Source
Aechmea fasciata photo credit: westpark via http://www.flickr.com/photos/west-park/1042563779/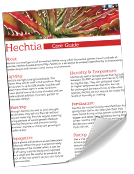 Resource Download
Hechtia Care Cheat Sheet
Learn how to care for your Hechtia bromeliad with this quick and easy informational guide.
Learn More

Ask an Expert
Questions about bromeliads?
Our experts love a challenge!