6 Tips On How To Provide Extra Humidity
Author: Celeste Booth4 Comments
Care and Culture, Growing Indoors

How To Provide Extra Humidity
What do you do when the humidity in your home or office drops too much for your bromeliad plants? The following is a list of suggestions that could work for your particular environment. You can try different methods to make sure you've found the one that works best for you and your plants!
To provide extra humidity for a small, special plant, keep it on a bed of damp pebbles and cover it with a glass cake cover at night.
One very simple strategy for increasing humidity is to place plants close together, because groups of transpiring plants form pockets of humidity on their own.
Placing bowls or glasses of water between plants, increases humidity while keeping water handy for dribbling into containers.
You can place plants on watertight trays filled with clean pebbles, which are then covered halfway with water. The water should not be so deep that it reaches the bottoms of the containers, which can cause roots to rot. The tray also needs to be rinsed every few weeks to keep them from becoming a secret haven for fungus gnats or other pests. Regular cleaning also limits the amount of salts that accumulate on the pebbles as water evaporates.
Misting plants, by spraying them with a fine spray of water, is helpful for plants that need high humidity, but for some plants it can do more harm than good. Plants with hairy leaves, such as African violets, dry very slowly, and leaves that stay damp for long periods of time can develop problems with disease. However, a few plants, such as bromeliads, actually take up moisture through specialized scales on their leaves, so misting them accomplishes two things – the plants absorb moisture, and they enjoy increased humidity.
Running a humidifier in rooms where a number of plants are kept is usually the best solution in buildings with extremely dry indoor air.
Have other suggestions for increasing humidity around your plants? Let us know in the comments section below.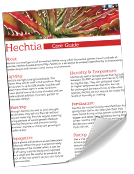 Resource Download
Hechtia Care Cheat Sheet
Learn how to care for your Hechtia bromeliad with this quick and easy informational guide.
Learn More

Ask an Expert
Questions about bromeliads?
Our experts love a challenge!