Wittrockia Bromeliad Plant Species
Author: admin3 Comments
Blooming, Care and Culture, Classification
Wittrockia (wit-rock'ee-a) – Belonging to the Bromelioideae subfamily; growing in the southern coastal mountains of Brazil, nine species have so far been discovered and only two are seen in cultivation, Wittrockia smithii and Wittrockia superba.
Epiphytic or terrestrial plants growing often in full sun or in medium intensity light about half-way up trees. Most species have thin leaves with few marginal spines; Wittrockia superba is the exception. The inflorescence is similar to that of the genus Neoregelia in most species.
As can be seen, the diversity of size, shape and color of the Bromeliad family, together with its remarkable biology, makes its members unique, interesting and highly desirable.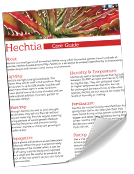 Resource Download
Hechtia Care Cheat Sheet
Learn how to care for your Hechtia bromeliad with this quick and easy informational guide.
Learn More

Ask an Expert
Questions about bromeliads?
Our experts love a challenge!