Aechmea Chantinii Bromeliad
Author: adminNo Comments
Care and Culture, Classification
This beautiful Amazonian species consists of an open rosette of about a dozen leaves, which are 2 in. (5cm) broad and 1ft (30cm) long, decorated with broad bands of green and white.
In August it bears a dense panicle of red and yellow flowers surrounded by bright red bracts. Sometimes available from florists, it is a good houseplant but should have a winter minimum temperature of 60 degrees F (15 degrees C).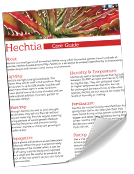 Resource Download
Hechtia Care Cheat Sheet
Learn how to care for your Hechtia bromeliad with this quick and easy informational guide.
Learn More

Ask an Expert
Questions about bromeliads?
Our experts love a challenge!