Aechmea Cylindrata Bromeliad
Author: adminNo Comments
Care and Culture, Classification
This has a long cylindrical flower spike in June, up to 9 in (23cm) long and 2 in (5cm) in diameter, of rose-pink bracts enclosing pale blue flowers, which are followed by long-lasting pink berries.
It is on of the smaller Aechmea, with a rosette 1 1/2 ft (45cm) in diameter, comprising firm green leaves edged with small brown spines. It comes from Brazil.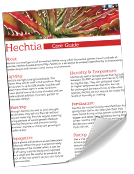 Resource Download
Hechtia Care Cheat Sheet
Learn how to care for your Hechtia bromeliad with this quick and easy informational guide.
Learn More

Ask an Expert
Questions about bromeliads?
Our experts love a challenge!