Aechmea Fasciata Bromeliad Flower
Author: adminNo Comments
Care and Culture, Classification
Probably the best known member of the genus is the urn plant, which forms an open rosette 2 ft (60cm) across of very stiff, grey-green, spine-edged leaves, banded with silver-grey.
The leaves are 2 to 3 inches (5-7.5cm) wide and form a central cup or vase which will retain water. The flower head rises from the center of the rosette to make a stiff, rather solid-looking arrangement of light purple flowers surrounded by prickly pink bracts and bract leaves. This showy flower spike lasts for several months under a wide range of temperatures, from 45 degrees F (7 degrees C) to 100 degrees F (37 degrees C).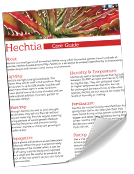 Resource Download
Hechtia Care Cheat Sheet
Learn how to care for your Hechtia bromeliad with this quick and easy informational guide.
Learn More

Ask an Expert
Questions about bromeliads?
Our experts love a challenge!