How to Make Your Bromeliad Bloom
Author: Melanie Dearringer35 Comments

Bromeliads have beautiful foliage, but they are often sought after for their inflorescence and the colorful leaves that accompany blooming. Unfortunately bromeliads, with the exception of a few genera, bloom only once. New plants will grow, but often they need some encouragement to produce a new flower.
PURCHASED IN BLOOM
Most nurseries force their bromeliads to bloom so they have attractive color or inflorescence by the time they arrive at the point of sale. Bromeliads are more enticing when they are full of color. This means that you will get to enjoy the color and inflorescence for a few months and then the flower will fade and eventually the plant itself will die.
PUPS
Before the plant dies it will produce offsets or "pups." These pups are exact copies of the parent plant. Therefore, the new plants will produce the same colorful bracts or inflorescence as the mother plant. This takes time. Some bromeliads can take three years or more to reach maturity and produce a new flower. However, you can speed the process along. Using natural or chemical means to encourage flowering is called forcing. It is possible to force a bromeliad to bloom before it is ready.
First you must decide what you will do with the pups. The pups can be removed and repotted individually. You should wait until the pups are at least one-third the size of the mother plant. Waiting until the pup is half the size of the mother will give your pup an even better chance. You can also leave your pups attached in a clump to the mother plant. Simply remove the mother plant with a sharp knife when it becomes unsightly.
Once the pup has matured you can force it to bloom. It may take up to a year for the pup to be ready for forcing, but some varieties will be able to establish faster. For more information on transplanting pups see this post.
AN APPLE IN A BAG
An easy way to try to force your bromeliad to bloom is the 'apple in a bag' approach. First you need to find a clear plastic bag with no holes in it. It should be large enough to fit the entire plant container and bromeliad inside. Garden centers or even aquatic pet stores should have bags like these available.
Remove any water that may be sitting on the plant. The central tank and leaf axils must be empty. Then place the whole pot in the bag with a ripe apple. Tie the bag shut at the top and make sure there are no openings. Let the plant sit in the bag with the apple for 7-10 days. Make sure the pot is kept in a shaded area as too much direct sunlight could damage the plant. Finally remove the pot from the bag. Six to fourteen weeks from when you remove the pot the bromeliad should begin to show signs of blooming such as colorful bracts or inflorescence.
ETHYLENE
It is the ethylene gas that is produced when the apple ripens that stimulates the bromeliads to bloom. There are also chemical versions of ethylene available. They can come in gas, liquid or a crystal form. Unless you are a commercial grower you will most likely want to use the liquid form. Commercial growers often use the gas, but it is much more difficult to work with. Tropiflora, a bromeliad producer and seller, recommends Florel, but anything with the active ingredient Ethefon will work. There are several different products on the market.
The products have varying concentrations of Ethefon so be sure to follow the manufacturer's instructions for handling and dilution closely. Only mix what you will need and throw away any extra after treating the plants. The active ingredient becomes inactive very quickly once diluted with water. You should not use the product more than four hours after it has been mixed. Spray the top surface of the plants with the mixture so they are just covered, but not dripping. Alternatively, you can add about an ounce of the mixture to the central tank.
The advantage to the chemical method is that it is slightly faster than the apple method. It will still be 6-14 weeks from the application of the product to the bloom, but you do not have to wait the extra 10-14 days that the apple must sit in the bag.
PRECAUTIONS
A few other conditions must be in place before you force your bromeliad to bloom. You should not fertilize your bromeliad two weeks before you force the bloom until two weeks after the bloom begins. Temperatures at night should remain consistently above 65 degrees during the time you are forcing the bloom.
Be aware that different bromeliad species will respond differently to forcing. Some may take longer than others to flower. It may take some trial and error to determine exactly how long it will take a certain bromeliad to bloom.  
In general, Guzmania, some Aechmea and Vriesea genera respond very well when forced to bloom.
FERTILIZERS
If you have been patiently waiting for your bromeliads to bloom, there maybe a reason your bromeliad has not produced any inflorescence. Too much or too little sunlight may prohibit a bromeliad to bloom.
Sunshine Coast Bromeliad Society warns that bromeliads are often reluctant to bloom when fertilized with too much nitrogen. The nitrogen will keep the bromeliad growing and producing pups, but it will delay flowering. They recommend using a fertilizer with Nitrogen 3.0, Phosphorus 8.0, and Potassium 25.0 plus trace elements. This combination will put enough stress on the plant to produce color and a bloom quickly.
WHY FORCE A BROMELIAD TO BLOOM
Bromeliads are forced to bloom for various reasons. Growers force blooms so that the plants will be colorful for sale during certain seasons. Pineapples are forced by growers to bloom so that they produce fruit at the same time making harvesting easy. Horticulturists force blooms so that they can create crosses between varieties that would normally bloom at different times. Many hybrids would be impossible without forced blooming. Hobbyists force blooms to keep their bromeliads colorful and beautiful as often as possible. Whatever your reason forcing bromeliads to bloom is a simple and easy process.
Forcing Bromeliad blooms requires only an apple and a little patience. With a few short steps you can have your bromeliad blooming in 3 months instead of 3 years.
Have you had any luck forcing your bromeliad to bloom? What methods have you tried?
Sources
"Bromeliads, inflorescence, and plastic bags." Leavesnbloom. <http://www.leavesnbloom.com/2010/09/tips-on-bromeliad-flowers-bromeliads.html>
"Forced Flowering." Sunshine Coast Bromeliad Society Inc. <http://www.scbs.org.au/articles.html>
"Forcing the Issue…" Tropiflora. <http://tropiflora.com/files/Forcing%20The%20Issue%20-%20Make%20Your%20Bromeliad%20Bloom.pdf?CFID=5469084&CFTOKEN=ad52a602a924e01b-C83FB63C-9756-DD4B-F8C6904F07BDEF3B&jsessionid=40301b8c0c2f0c172ef76452c533a432b276>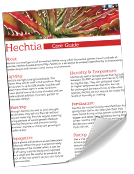 Resource Download
Hechtia Care Cheat Sheet
Learn how to care for your Hechtia bromeliad with this quick and easy informational guide.
Learn More

Ask an Expert
Questions about bromeliads?
Our experts love a challenge!