How Much Light Does My Bromeliad Need?
Author: Melanie Dearringer6 Comments
Light requirements vary depending on the type of bromeliad you are caring for. Generally, if your bromeliad has soft, flexible leaves, it will prefer lower lighting levels. While a bromeliad possessing hard or stiff leaves will most likely enjoy bright, indirect light. Check out our Bromeliad Basics: Lighting article for more detailed information on this topic.
NOTE: Use our Bromeliad Identification Flowchart to determine which genus of bromeliad you have for an even better idea of your specific bromeliad's care requirements.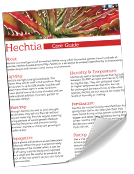 Resource Download
Hechtia Care Cheat Sheet
Learn how to care for your Hechtia bromeliad with this quick and easy informational guide.
Learn More

Ask an Expert
Questions about bromeliads?
Our experts love a challenge!