Bromeliad Basics: An Introduction
Author: Melanie Dearringer45 Comments

The bromeliad family is comprised of over 3100 species. Most of which grow natively in tropical America. The family is quite diverse including: tank bromeliads, air loving epiphytes, a number of succulents, and the most widely known bromeliad, the pineapple. They range in size from the small Spanish moss to the large Puya raimondii, which measures in at an outstanding 30 feet tall.
Bromeliads feature exotic looking foliage that can come in a variety of colors including: red, yellow, gold, green, white, purple, and more. This foliage differs widely from species to species. Leaves can be broad and fleshy or needle thin, proportionally displayed or asymmetrical, sharp and spiky or smooth and soft. Most bromeliads develop a flower stalk that rises from the center of the plant. The inflorescences that are produced last anywhere from two weeks to one year. 
Terrestrial bromeliads, like the pineapple, have a complex root system that is used like most other plants to gather the water and nutrients necessary for survival. While epiphytic bromeliads, like the Tillandsia (also known as an air plant), grow roots that function as an anchor attaching the plant to trees. Many people mistake epiphytes as parasites. However, these type of plants receive their nutrients not from the plant on which they are fastened to, but from the air, rain, and accumulated debris surrounding it.
As you can see, the bromeliad family is wildly diversified. There are, however, a few general care requirements that will remain true for most species.
For even more information on bromeliad basic care, check out these great articles:
Bromeliad Basics: Temperature
Bromeliad Basics: Fertilizer
Bromeliad Basics: Watering
Bromeliad Basics: Lighting
Bromeliad Basics: Potting Medium
Bromeliad Basics: Repotting
Bromeliad Basics: Propagation
Sources
Bromeliaceae via http://en.wikipedia.org/wiki/Bromeliaceae
Epiphytic bromeliad photo credit: Sean Murray via http://www.flickr.com/photos/threefingers/2589964987/
WorldBromeliadDistribution photo credit: Mmcknight4 via http://commons.wikimedia.org/wiki/File:WorldBromeliadDistribution.jpg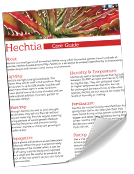 Resource Download
Hechtia Care Cheat Sheet
Learn how to care for your Hechtia bromeliad with this quick and easy informational guide.
Learn More

Ask an Expert
Questions about bromeliads?
Our experts love a challenge!