Bromeliad Basics: Propagation
Author: Melanie Dearringer28 Comments
In this article you'll find helpful information on the general propagation requirements for a bromeliad plant.
Propagation
For a deeper understanding of bromeliad propagation, download our free Beginner's Guide to Bromeliad Pups.
Bromeliads are grown from offesets, often called pups. Pups are exact clones of the mother plant on which they are grown. Some species develop offsets before they flower, but it is more typical to see pups emerging after the mother plant has bloomed and begun to decline. If desired, you can try to trim back the failing leaves of the parent plant to give the pups more light, but do not remove the offsets from the mother plant too soon as these offsets feed off of the deteriorating tissues of the parent plant.
It is safe to remove and repot your bromeliad pups when they are one-third to one-half the size of the mother plant. It is usually best to do this by repotting the entire family. When removing a bromeliad offset, use a sharp, sterilized knife to separate the pups from the mother and then pot them in a slightly moist potting mix. Using medium that is too wet can cause these delicate plantlings to rot. Quick growing offsets may need to be repotted in as little as 6 months.
For even more information on bromeliad basic care, check out these great articles:
Bromeliad Basics: An Introduction
Bromeliad Basics: Temperature
Bromeliad Basics: Fertilizer
Bromeliad Basics: Watering
Bromeliad Basics: Lighting
Bromeliad Basics: Potting Medium
Bromeliad Basics: Repotting
Source
Neoregelia "Cathy Doerr" spotted pup photo credit: Gem via http://www.flickr.com/photos/its_gem/5495617750/
Tillandsia ionantha guatemala pup photo credit: Josie B. via http://www.flickr.com/photos/jozieb/10624078455/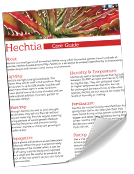 Resource Download
Hechtia Care Cheat Sheet
Learn how to care for your Hechtia bromeliad with this quick and easy informational guide.
Learn More

Ask an Expert
Questions about bromeliads?
Our experts love a challenge!