Caring For Bromeliads – Part Eight – Small Details
Author: adminNo Comments
Blooming, Care and Culture, Growing Indoors, Growing Outdoors
In this article you'll find helpful information on the general small detail requirements for a bromeliad plant.
Small Details
Patience is important with bromeliads, which must be mature before they will bloom. Under ideal conditions, the bromeliad life cycle is completed in 3 years, but plants often need a year or two longer when grown indoors. When buying plants, choose those that have not yet bloomed or have just begun to show a flower spike. Bromeliads in full bloom will expire within a few weeks, and you will have to wait years for another good show of flowers.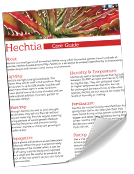 Resource Download
Hechtia Care Cheat Sheet
Learn how to care for your Hechtia bromeliad with this quick and easy informational guide.
Learn More

Ask an Expert
Questions about bromeliads?
Our experts love a challenge!