Thank you for your Submission
Thank you for submitting your Bromeliad photo.
Check back on the blog to see your photo featured soon!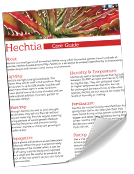 Resource Download
Hechtia Care Cheat Sheet
Learn how to care for your Hechtia bromeliad with this quick and easy informational guide.
Learn More

Ask an Expert
Questions about bromeliads?
Our experts love a challenge!