Aechmea Bromeliad Plant Species
Author: adminNo Comments
Blooming, Care and Culture, Classification
Aechmea (eek-me'a) – Belonging to the Bromelioideae subfamily; Aechmeas lend themselves to cultivation more readily than any other bromeliad and therefore are more widely grown and thereby more available!
200 species have been identified and probably the best known would be Aechmea fasciata, which was introduced into cultivation in 1826. Aechmeas are saxicolous, terrestrial and epiphytic. The beauty of their foliage, and their long lasting inflorescence are contributing factors to long lasting inflorescence are contributing factors to their popularity. Adaptability to house conditions, pot culture, and their general overall hardiness add to their appeal.
The varieties available are almost infinite and their shape, size and color is extremely variable, form a few centimeters to about three meters in diameter (Aechmea conifera). There is a plant for everyone. The leaves of this genus may be plain green, maroon, rose, brown; striated and extremely ridged or delicately soft. They may be spread out in open rosettes or tubular in form. The inflorescence usually rises above the plant on a sizeable scape, with very colorful bracts. The inflorescence after flowering holds berry-like fruit, which is a distinguishing 'trademark' of the Aechmea genus. They grow in exposed conditions or full shade, on windswept mountains or forest floors. All do well in cultivation and very few require any special attention.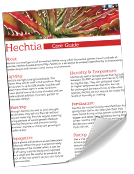 Resource Download
Hechtia Care Cheat Sheet
Learn how to care for your Hechtia bromeliad with this quick and easy informational guide.
Learn More

Ask an Expert
Questions about bromeliads?
Our experts love a challenge!