Catopsis Bromeliad Plant Species
Author: admin1 Comment
Blooming, Care and Culture, Classification
Catopsis (ka-top'sis) – Belonging to the Tillandsioideae subfamily; these plants are epiphytes and comprise about 21 known species.
They are soft leaved, smoother edged, and form graceful small rosettes.
The undersides of the leaves are coated with what appears to be white powder. The flowers have white or yellow petals and are very small. The catopsis are interesting plants but not highly decorative.
Catopsis subulata pictured.
For more information on the Tillandsioideae Bromeliad subfamily, check out my Bromeliad Subfamily – Tillandsioideae post!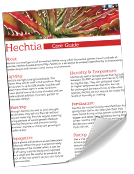 Resource Download
Hechtia Care Cheat Sheet
Learn how to care for your Hechtia bromeliad with this quick and easy informational guide.
Learn More

Ask an Expert
Questions about bromeliads?
Our experts love a challenge!