7 Common Bromeliad Care Mistakes
Author: Celeste Booth38 Comments
Bromeliads are easy to care for, which makes them ideal indoor plants especially to new growers. If you are just starting out and want a plant that is easy to maintain, most bromeliads will thrive with little maintenance. However, the following are a few common mistakes that should be avoided when caring for your bromeliad.
1. Overwatering
The most common mistake is overwatering. It is often assumed that because bromeliads are tropical they need a lot of water all of the time. It is true that many bromeliads like humidity, but they do not like their feet wet. Most bromeliad's roots act more like an anchor than the main source for taking up water and nutrients. Therefore, if the soil remains constantly wet, the roots will likely rot ultimately killing the plant.  To avoid this problem, allow the potting medium to dry before further watering. Even if it appears dry on top, it may be retaining water further under the surface. Stick you finger a few inches into the pot and check to make sure the potting medium feels dry at that level. If you are unsure, it is best to wait another day and check again. Most bromeliads can tolerate drought. They will not thrive and grow in consistent drought, but they are less likely to die of drought than rotting.
2. Choosing the wrong container
As mentioned above, most bromeliads' roots act as anchors and do not grow very large. A small pot between four and six inches will be large enough to hold most bromeliads. Using a container that is too large for a bromeliad will result in the potting medium retaining too much water and the bromeliad suffering the same consequences as overwatering; the roots are likely to rot eventually causing the plant to die.
3. Using the wrong potting medium
Never use garden dirt or top soil in a pot meant for bromeliads. Soil from the ground will be too dense and retain too much water. It may also carry disease, fungus and pests that will damage a bromeliad. Instead use a potting medium that is specially formulated for growing bromeliads. There are many soil-less mixtures on the market that are designed to allow quick drainage. These bromeliad potting mixes can be found at garden centers and nurseries.
4. Exposing your plant to copper
Bromeliads are very sensitive to copper and exposure can cause damage and even the death of the plant. It may seem unlikely that a plant will be exposed to copper, but there are a few instances when it is possible if the grower is unaware of the presence of copper. The two most likely accidental exposures occur when mounting an epiphytic bromeliad.
Do not use copper wire when mounting a bromeliad. Water resistant glue is a good alternative to wire for mounting.
Avoid using treated wood when choosing a mount for a bromeliad. It is usually pressure treated with copper to make it more weather resistant.
Copper can also be found in some fungicides. If you are using a fungicide make sure it is specified for use on bromeliads.
5. Assuming all bromeliads are the same
There 57 different genera of bromeliads. Within those 57 genera are over 3,000 different species and many more cultivars. While many bromeliads are similar, some have unique adaptations that they have developed to survive in their native habitat. Cryptanthus, for example, like to stay moist while most other bromeliads like to dry out a bit between waterings.
All bromeliads originate from warm climates. Some are adapted to thrive in arid regions while other are adapted for growth in humid regions. Some bromeliads grow naturally on forest floors, while others grow clinging to trees and other host surfaces. Make sure you know what kind of bromeliad you have and how to best care for it. There are a few questions you should ask the grower before you buy a bromeliad: Should it be mounted or grown in potted? Does it like humidity or dry climates? How much light does it need? How big will the plant get? It is important to make sure you can properly care for that specific type of bromeliad before you invest in the plant.
6. Exposure to an infested plant
Bromeliads have few pest problems especially when grown in the home. They are so far away from their original habitat that natural predators don't pose much threat. However bromeliads can be susceptible to mealybugs, aphids and scale. If the infestation happens in your home it is most likely because a previously infested plant was introduced into the environment.  Any time you purchase a new plant you should keep it quarantined from other plants for three weeks. Even if no traces of the pests exist when you bring home the plant, eggs that are invisible to the naked eye could hatch and spread pests to the other plants in your collection. During this three week time watch closely for insect infestations. If the plant remains pest free at the end of the trial period, you can safely place it with your plant collection without fear of introducing new pests.
7. Hard Water
Hard water can leave deposits both on the leaves near the base of the plant and in its central tank. These deposits can damage the leaves and make them more susceptible to disease.  Water in the tank should be regularly flushed to avoid the build up of salts. As an alternative to tap water, you can use rain water or distilled water. This will prevent the build up of any minerals and is preferred.
Bromeliad care is fairly straightforward. If you are a beginner, do not be intimidated by these potential mistakes. Most bromeliads are very resilient. If they are showing signs of problems, they can be easily salvaged with a little troubleshooting. Be vigilant and at the first sign of a problem begin seeking out a solution  The earlier a mistake is discovered and corrected, the easier it is for the bromeliad to recover and remain a beautiful plant to display.
Sources
"Bromeliad Society International" <http://www.bsi.org/brom_info/FAQ.html>
"Bromeliaceae" Wikipedia <http://en.wikipedia.org/wiki/Bromeliaceae>
Johnson, Carol. "Cultural Hints for Bromeliad Growers." Florida Council of Bromeliad Growers. <http://fcbs.org/index1.html>
Aphids photo credit: Fred Dawson via http://www.flickr.com/photos/fwp-dawson/424053223/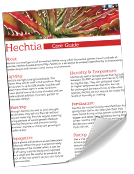 Resource Download
Hechtia Care Cheat Sheet
Learn how to care for your Hechtia bromeliad with this quick and easy informational guide.
Learn More

Ask an Expert
Questions about bromeliads?
Our experts love a challenge!