Popular Bromeliad Plant – Ananas comosus 'Variegatus'
Author: admin1 Comment
Care and Culture, Classification
This article provides you with a specific profile of the popular bromeliad plant known as Ananas comosus 'Variegatus'.
Ananas comosus (ah-NAH-nus ko-MOH-sus) – Also known as the "Ivory Pineapple or Variegated Pineapple." The same species as the edible pineapple, ivory pineapple is grown primarily for its long leaves with creamy margins, studded with sharp spines. Plants can get quite large, up to 36 in (90 cm) tall, and 6 ft (1.8 m) across, but keeping them in 8 in (20 cm) pots helps to control their size. Plants that are 5 to 6 years old produce a pinkish fruiting spike that slowly grows into a small brown pineapple over a period of 3 months. Although it lacks the sweet flavor of cultivated pineapples, which grow in hot sun, it is fun to watch as it matures. Potted pineapples benefit from strong light and warm temperatures, so it is best to move them outdoors in the summer. Gradually accustom the plants to increased light. Move the plants back indoors when nights begin to cool in the fall, and then place them in a very warm, brightly lit location.
For more information about Ananas comosus 'Variegatus' bromeliads, check out my post on Bromeliad Plant Growing Specifications – Ananas comosus 'Variegatus'!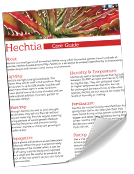 Resource Download
Hechtia Care Cheat Sheet
Learn how to care for your Hechtia bromeliad with this quick and easy informational guide.
Learn More

Ask an Expert
Questions about bromeliads?
Our experts love a challenge!