How to Troubleshoot Bromeliad Problems
Author: Celeste Booth32 Comments
Care and Culture, Diseases, Insects
Bromeliads are a stunning addition to any interior landscaping design. Most bromeliads do not require complicated care, but every now and then a problem may arise that needs some attention. In this post we will discuss a few warning signs to look for and how to resolve the problem.
1. The flower is turning brown, wilting and looks like it will die.
Unfortunately, the death of a bromeliad flower is inevitable. Most bromeliads, with the exclusion of a few species such as those in the genera Dyckia, flower only once.  The plant may live for months or years even after the flower dies, but eventually the plant will die too.
Bromeliads produce new growth from the middle of the plant. Once the inflorescence is formed, the plant can no longer grow. However, before the plants die they will produce offshoots called pups. The pups can be separated and replanted or left to grow in a clump. Bromeliads are often sold while flowering or shortly before flowering when the inflorescence is most colorful therefore the flower may begin to die after only a few months of ownership. Once the inflorescence becomes unsightly you can simply cut it off near the center of the plant with a sharp, sterilized blade.
2. The leaves at the base of the plant are turning brown or soggy.
Bromeliads can be prone to root rot. Many bromeliads are naturally epiphytic meaning they grow attached to a substrate above the ground. Roots often act as anchors rather than delivering water to the plant. Some epiphytes can be planted terrestrially, but they should be in a very well draining mix. Roots that perpetually sit in water will begin to rot causing damage to the entire plant.
Bromeliads can also succumb to heart rot. If the center of the bromeliad emits a slight rotting smell, appears brown and soggy, or the leaves fall off easily when touched it may be suffering from heart rot. If the rot isn't too advanced, you may be able to  save the plant with a fungicide. If the bromeliad has produced healthy pups you may want to separate and repot the pups and dispose of the rotting mother plant.
Potting mixes formulated specifically for bromeliads can be purchased. If the problem is not too severe you may be able to get away with holding off on watering to make sure the potting medium dries completely in between waterings. Be sure to repot the bromeliad in new medium and consider using a faster draining potting mix and a pot with better drainage. Bromeliads like humidity, but if the location of your bromeliad is to wet and the soil remains constantly soggy, you may need to find a drier location with more air circulation for your bromeliad.
3. There is a salty build up on the leaves.
This is a problem that occurs in bromeliads with leaves that form a tank where water is stored. Mineral build up on the leaves comes from watering with tap water. As the tap water evaporates off the leaves and out of the central tank it leaves behind a mineral build up. This usually appears as a sort of white, chalky or salty substance.
To remove the build up spray the leaves with distilled water and wipe them down gently with a soft cloth. Watering the plant with rainwater will prevent the build up from happening again. It is also important to flush out the tank about once a week. This will keep the water from stagnating and being a potential breeding ground for fungus, disease and pests.
Over-fertilizing can also cause build up on the plant as well as damage the leaves. Most bromeliads do not require fertilizer, but to encourage growth and blooming you can use a very diluted, evenly formulated fertilizer once a month during the spring and summer seasons.
4. The tips of the leaves are turning brown or there are brown or yellow spots on the leaves.
Bromeliads are usually not too particular about the amount of light they receive, but if they get too much direct sunlight, they can scorch. Many bromeliads are native to the understory of South American rainforests. Therefore, they are well adapted to getting a lot of indirect, filtered light that makes its way through the canopy.
If your bromeliad is sitting in a window that gets too much direct sunlight, it can scorch. Brown tips or light brown spots on the leaves are indications that the plant is getting too much sun. When you move a bromeliad outdoors for the summer, take care to ensure it is not exposed to too much direct sun.
5. The bromeliad was supposed to be variegated but it is mostly a dark green color.
While many bromeliads can tolerate low levels of light, they may not look their best if they are not getting enough light for their species. When bromeliads get little to no sunlight, they will respond by turning a deep green instead of showing of their true colors. The dark green compensates for the lack of light allowing the bromeliad to survive in less than ideal conditions. Try giving your bromeliad exposure to more indirect light to bring out its vibrant colors.
6. The bromeliad is drying out.
Different species of bromeliads prefer varying levels of humidity. Neorogelias, for example, like it very humid while Dyckias can tolerate arid conditions. Most Bromeliads fall somewhere in between. If your bromeliad looks like it is withering away, try increasing the relative humidity. Fill a tray full of pebbles and add a few inches of water. You can set the bromeliad container on or near the tray. Just make sure that the container is not sitting in the water soaking it up.
You can also move the plant to a naturally more humid location such as a kitchen or bathroom. Placing other plants near the bromeliad can slightly increase the relative humidity around the plant as well. If your air is seriously dry, such as in a centrally heated home in the winter, consider employing a humidifier near your bromeliad. It is healthier for both you and the plant!
7. There is a cottony substance at the base of the leaves.
The cottony substance is caused by mealybugs. Bromeliads are not often invaded by pests, especially indoors, but occasionally they can show up. A small infestation of mealybugs or scale can be removed by thoroughly dabbing the bugs with rubbing alcohol and then washing and drying the leaves. Bugs usually stow away on new plants. A full infestation can be avoided if you keep any new plants separate from your collection and watch for pests for three weeks.
Bromeliads are easy to care for as long as you know how to troubleshoot. Stick to the following tips to raise a healthy bromeliad:
Cut off the flower when it turns brown. The plant won't grow a new flower, but it will produce pups.
Keep the plants moist but not soggy in well draining soil. If it is a tank type bromeliad, water it with rainwater and rinse the tank regularly.
Keep up the relative humidity.
Provide plenty of bright yet indirect sunlight.
Check your leaf axils for pests.
Knowing what to look for and how to solve problems can help you nurse a bromeliad back to health or keep a strong plant growing well.
Sources
"Frequently Asked Questions." Bromeliad Society International.<http://www.bsi.org/brom_info/FAQ.html>
"Why Grow Bromeliads?" Bromeliad Society International. <http://www.bsi.org/brom_info/growing/gencult.html>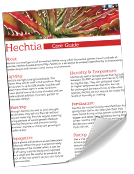 Resource Download
Hechtia Care Cheat Sheet
Learn how to care for your Hechtia bromeliad with this quick and easy informational guide.
Learn More

Ask an Expert
Questions about bromeliads?
Our experts love a challenge!