A Quick Tip On How To Check For Bugs
Author: admin1 Comment
Care and Culture, Growing Indoors, Growing Outdoors, Insects
In this post I've given you a quick tip on how to check for bugs on your plants!
In addition to using your eyes to inspect plants for insect activity, you can also use your breath! Breathing on plants sometimes causes still insects to move in response to the carbon dioxide in your breath. And, since carbon dioxide is used by plant (they convert it to oxygen), blowing on them gently is a nurturing gesture as well.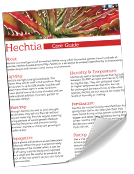 Resource Download
Hechtia Care Cheat Sheet
Learn how to care for your Hechtia bromeliad with this quick and easy informational guide.
Learn More

Ask an Expert
Questions about bromeliads?
Our experts love a challenge!