A-Z Guide To Houseplant Pesticides
Author: admin2 Comments
Blooming, Care and Culture, Classification, Growing Indoors, Growing Outdoors
Before using any pesticide on a houseplant, carefully read the product's label to make sure it is appropriate for both the pest and the plant.
When any houseplant is treated with a pesticide, be sure to keep the plant in a shady place, as pesticides and bright light often combine to cause injury to plant leaves. Use the following links as general guides; obscure houseplants are often not listed on pesticide labels. If you are unsure about a plant's tolerance of any chemical, apply it to a test leaf and wait 3 days before treating the entire plant.
List of Common Houseplant Pesticides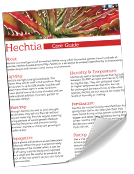 Resource Download
Hechtia Care Cheat Sheet
Learn how to care for your Hechtia bromeliad with this quick and easy informational guide.
Learn More

Ask an Expert
Questions about bromeliads?
Our experts love a challenge!