Houseplant Pesticide – Imidacloprid
Author: adminNo Comments
Blooming, Care and Culture, Classification, Growing Indoors, Growing Outdoors
Before using any pesticide on a houseplant, carefully read the product's label to make sure it is appropriate for both the pest and the plant.
What is it – Imidacloprid is the least toxic pesticide that works on contact with insects as well as systemically, by mixing with plant sap. Insects that subsequently feed on plants are poisoned ad they take up small amounts of the pesticide.
Plants with delicate leaves that may be injured by this or other types of sprays can be treated by soaking the roots with this pesticide, or by repotting into soil that has been amended with imidacloprid. This insecticide is owned by the Bayer company; products containing imidacloprid are widely available under the Bayer brand name.
Precautions – Do not apply imidacloprid concentrates indoors, and do not use this pesticide on edible plants such as rosemary or calamondin orange.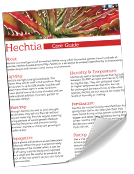 Resource Download
Hechtia Care Cheat Sheet
Learn how to care for your Hechtia bromeliad with this quick and easy informational guide.
Learn More

Ask an Expert
Questions about bromeliads?
Our experts love a challenge!