Insecticidal Soap
Author: adminNo Comments
Blooming, Care and Culture, Classification, Growing Indoors, Growing Outdoors
Before using any pesticide on a houseplant, carefully read the product's label to make sure it is appropriate for both the pest and the plant.
What is it – Insecticidal soaps, as well as homemade soap sprays, kill insects by cutting through their protective coatings, causing them to dry up. The spray must actually coat the insects to be effective.
Precautions – Insecticidal soaps are safe to apply indoors, but they can cause leaf injury to some plants, including those listed below. Never use insecticidal soap on newly rooted cuttings, which cannot have the functioning of their sparse leaves compromised in any way.
Do Not Use On:
Begonia
Crown of Thorns
Ferns (not all are sensitive)
Jade Plant
Palms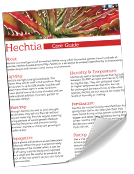 Resource Download
Hechtia Care Cheat Sheet
Learn how to care for your Hechtia bromeliad with this quick and easy informational guide.
Learn More

Ask an Expert
Questions about bromeliads?
Our experts love a challenge!