Aechmea Fulgens Bromeliad Flower
Author: adminNo Comments
Care and Culture, Classification
This Brazilian species has a large spike of violet flowers contained in bright orange-red bracts. The florets turn red as they age and are succeeded by round, red, shining berries.
It is one of the soft-leaved types, with 1 ft (30cm) leaves, green on top and with a grey wax-like coating underneath. The variety discolor has dark wine-red leaves. A temperature of 50 degrees F (10 degrees C) is necessary in the winter and rather less light than for most aechmeas.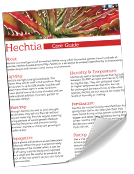 Resource Download
Hechtia Care Cheat Sheet
Learn how to care for your Hechtia bromeliad with this quick and easy informational guide.
Learn More

Ask an Expert
Questions about bromeliads?
Our experts love a challenge!