Aechmea Gamosepala Bromeliad
Author: adminNo Comments
Care and Culture, Classification
A tough rosette of 1ft (30cm) leaves, grayish below and tinged at the base with black-purple, this is one of the easiest aechmeas to grow.
The flower is an open spike of rose-pink and blue in June and July, followed by round pink berries, the whole held well above the leaves.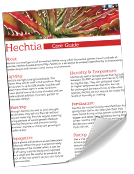 Resource Download
Hechtia Care Cheat Sheet
Learn how to care for your Hechtia bromeliad with this quick and easy informational guide.
Learn More

Ask an Expert
Questions about bromeliads?
Our experts love a challenge!