Aechmea Nudicaulis Bromeliad
Author: adminNo Comments
Care and Culture, Classification
This is one of the aechmeas that form tall upright tubes. The few leaves are 1-3 ft (30-90cm) high, depending on the particular clone, with strong black spines on the edges.
The flower spike, produced in May, is a long-lasting cylindrical head of bright yellow flowers cupped in brilliant red stem bracts. It is very free-flowering and produces offsets on strong prickly stolons.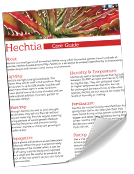 Resource Download
Hechtia Care Cheat Sheet
Learn how to care for your Hechtia bromeliad with this quick and easy informational guide.
Learn More

Ask an Expert
Questions about bromeliads?
Our experts love a challenge!