Aechmea Pineliana Bromeliad
Author: adminNo Comments
Care and Culture, Classification
This Central American species is a rosette about 2ft (60cm) across, with dark green leaves banded silver below and with black spines on their edges.
The dense spike of yellow flowers is surrounded by bright red bracts, while the floral bracts have light brown bristles at their tips, giving a teazle-like appearance. The leaves will become red in a good light, particularly at flowering time, which is usually May or June.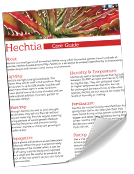 Resource Download
Hechtia Care Cheat Sheet
Learn how to care for your Hechtia bromeliad with this quick and easy informational guide.
Learn More

Ask an Expert
Questions about bromeliads?
Our experts love a challenge!