Aechmea 'Royal Wine' Bromeliad
Author: adminNo Comments
Care and Culture, Classification
A soft-leaved plant, this generally produces its flowers in the summer, followed by long-lasting berries.
Offsets are freely born on stolons. It should have a winter temperature of 50 degrees F (10 degrees C).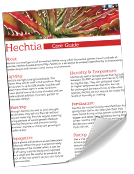 Resource Download
Hechtia Care Cheat Sheet
Learn how to care for your Hechtia bromeliad with this quick and easy informational guide.
Learn More

Ask an Expert
Questions about bromeliads?
Our experts love a challenge!