Androplepis Bromeliad Plant Species
Author: adminNo Comments
Blooming, Care and Culture, Classification
Androplepis (an-droll'epis) – Belonging to the Bromelioideae subfamily; the only species, Androlepis skinneri, grows on rocks or epiphytically in forests.
The inflorescence is branched and slightly arched, the bracts are pale and the flowers have bright yellow petals.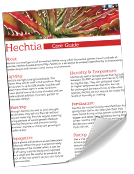 Resource Download
Hechtia Care Cheat Sheet
Learn how to care for your Hechtia bromeliad with this quick and easy informational guide.
Learn More

Ask an Expert
Questions about bromeliads?
Our experts love a challenge!