Araeococcus Bromeliad Plant Species
Author: admin1 Comment
Blooming, Care and Culture, Classification
Araeococcus (a-ree-o-cock'us) – Belonging to the Bromelioideae subfamily; there are five known species, of which only two are in cultivation, Araeococcus flagellifolius and Araeococcus pectinatus.
Both grow as epiphytes and are not commonly available.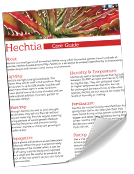 Resource Download
Hechtia Care Cheat Sheet
Learn how to care for your Hechtia bromeliad with this quick and easy informational guide.
Learn More

Ask an Expert
Questions about bromeliads?
Our experts love a challenge!