Billbergia Bromeliad Plant Species
Author: adminNo Comments
Blooming, Care and Culture, Classification
Billbergia (bil-berj'ea) – Belonging to the Bromelioideae subfamily; about sixty-one species make up the genus. They are colorful and easily grown.
Billbergia nutans and Billbergia pyramidalis can be found in numerous gardens around Autralia. Billbergias are easily identified from most other bromeliads as they generally have fewer leaves and are tall and tubular in appearance. Foliage can be mottled, cross-banded or variegated. Their inflorescences, although lasting from only a few days to possibly two weeks, are perhaps the most beautiful of all bromeliads. They have tubular flowers, with re-curved petals in a variety of striking colors, usually purple, blue, yellow, green or white and most inflorescences are of cascading nature. Billbergias will tolerate almost all conditions in cultivation but should be given strong light and hard conditions.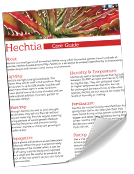 Resource Download
Hechtia Care Cheat Sheet
Learn how to care for your Hechtia bromeliad with this quick and easy informational guide.
Learn More

Ask an Expert
Questions about bromeliads?
Our experts love a challenge!