Bromelia Bromeliad Plant Species
Author: admin1 Comment
Blooming, Care and Culture, Classification
Bromelia (broh-meel'ea) – Belonging to the Bromelioideae subfamily; consists of around fifty species which could not be classified as 'delicate'.
They are large, robust plants with barbed leaves and often form impenetrable barriers. In parts of South America they are grown as hedges to fence in cattle. Extremely large plants, they may reach a diameter of 1.8 meters at maturity. When not flowering they resemble a pineapple. They are terrestrial in habitat and some species, Bromelia balansae for example, are very colorful at maturity. A few of the species have some economic value as their fruit is used in medications.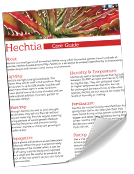 Resource Download
Hechtia Care Cheat Sheet
Learn how to care for your Hechtia bromeliad with this quick and easy informational guide.
Learn More

Ask an Expert
Questions about bromeliads?
Our experts love a challenge!