Canistrum Bromeliad Plant Species
Author: adminNo Comments
Blooming, Care and Culture, Classification
Canistrum (can-is'trum) – Belonging to the Bromelioideae subfamily; this genus consists of ten species which are large plants reaching 60-90 cm in diameter.
They prefer moist conditions and grow either as terrestrials or epiphytes. The inflorescence is deep in the heart of the rosette and the compact flower head is surrounded by colorful bracts rising above the flowers, creating an effect like a basket of flowers. The foliage is predominantly light green with darker green mottling. Easy to grow and worthy of collection.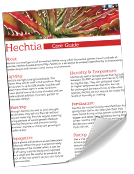 Resource Download
Hechtia Care Cheat Sheet
Learn how to care for your Hechtia bromeliad with this quick and easy informational guide.
Learn More

Ask an Expert
Questions about bromeliads?
Our experts love a challenge!