Basic Bromeliad Plant Care Video
Author: Jeremy Dearringer23 Comments
This basic video shows you how to take care of the most common types of bromeliads. Learn how much light your bromeliad needs along with how to water it.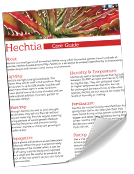 Resource Download
Hechtia Care Cheat Sheet
Learn how to care for your Hechtia bromeliad with this quick and easy informational guide.
Learn More

Ask an Expert
Questions about bromeliads?
Our experts love a challenge!