X Cryptbergia Bromeliad Hybrid
Author: Celeste Booth2 Comments
Care and Culture, Classification
Cryptanthus have been crossed with Billbergia and the resulting hybrids are intermediate in habit between the two genera.
One of the most common in cultivation, probably because it is so easy to grow, is X Cryptbergia rubra. It forms a stiff rosette about 9 inches (23cm) across of 20-30 hard, tapering leaves that are glossy mahogany-red on top and silvery grey on the underside. Small flowers appear from the central tank. Offsets are produced on short stolons and may be divided in the spring season. It likes peat and sand compost with regular feeding at every third watering and very bright light – almost full sun. A temperature of 45 degrees F (7 degrees C) does not trouble this plant at all.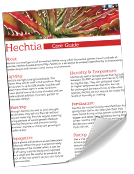 Resource Download
Hechtia Care Cheat Sheet
Learn how to care for your Hechtia bromeliad with this quick and easy informational guide.
Learn More

Ask an Expert
Questions about bromeliads?
Our experts love a challenge!