Billbergia Amoena Bromeliad
Author: adminNo Comments
Care and Culture, Classification
This Brazilian species is a stiff tubular plant about 1 1/2ft (45cm) tall and 2 in. (5cm) in diameter. The green leaves, suffused with red and marbled with cream, have distinct silver bands across them and small brown spines at the edges.
The upright spike carries a few yellow-green flowers margined with blue, set off by several large pink bracts, spearing in January or February. The offsets grow close to the parent plant on very short, thick stolons and may be left so that the plant eventually makes an attractive clump of almost pipe-like tubes.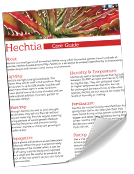 Resource Download
Hechtia Care Cheat Sheet
Learn how to care for your Hechtia bromeliad with this quick and easy informational guide.
Learn More

Ask an Expert
Questions about bromeliads?
Our experts love a challenge!