Billbergia Chlorosticta Bromeliad
Author: adminNo Comments
Care and Culture, Classification
Known to gardeners for many years as B. saundersii, this has slightly arching, narrow 1 1/2 ft (45cm) leaves of brownish green, with copious cream-white spotting and banding when grown in a good light.
It forms an upright rosette, from the center of which the slightly drooping flower spike is produced in May, with bright red stem bracts and a large panicle of red and violet flowers. Offsets grow quite close to the parent as in B. nutans and, like them, should flower after one season of growth.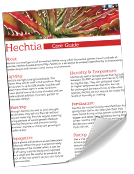 Resource Download
Hechtia Care Cheat Sheet
Learn how to care for your Hechtia bromeliad with this quick and easy informational guide.
Learn More

Ask an Expert
Questions about bromeliads?
Our experts love a challenge!