Billbergia 'Muriel Waterman' Bromeliad
Author: adminNo Comments
Care and Culture, Classification
This is one of many beautiful hybrids developed by the great American collector and enthusiast, Mulfor Foster.
The stout tubular rosette, about 3 inches (7.5cm) in diameter, opens out to a funnel at the top of some six to eight leaves. These are rose-maroon with transverse silver bands, making it one of the most colorful foliage billbergias. The showy flower spike consists of pink bracts and yellow flowers edged with steel-blue.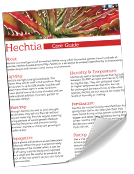 Resource Download
Hechtia Care Cheat Sheet
Learn how to care for your Hechtia bromeliad with this quick and easy informational guide.
Learn More

Ask an Expert
Questions about bromeliads?
Our experts love a challenge!